High quality plastic recycling is dependent on good design, quality collection and sorting. Innovative technologies further increase the efficiency of processes and the quality of the recycling output.
Transparency is equally important when it comes to the characterization and assessment of recyclers' output. It ultimately boosts confidence in the quality of materials among the industry. Recyclers can consult the PRE Recyclates Characterisation Guiding Requirements for such an assessment.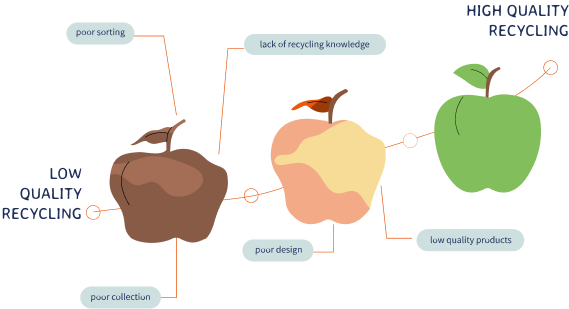 Recyclates characterisation guiding requirements:
To facilitate the traceability of waste, recyclers are encouraged to undergo certification of their recycling processes. This step would be equally important in subsequent certification of the use of recycled plastic in new products.
Certify your plastic recycling
process with RecyClass
Monitor your recycling
data with PolyREC
Sustainable use of substances
PRE developed a voluntary industry standard, PRE 1000, for the screening of substances. This standard enables recyclers to analyse the recycled material in a cost-effective manner & thereby prove compliance to the relevant product legislation, such as REACH, RoHS or POP.
To learn more about the standard or start your analysis, contact us