When recycling first started, recyclates were used in what is commonly called downcycling processes. Today, however, anything is possible!
Despite the high-quality of recycled materials, currently their uptake remains low. For instance, while building & construction is the sector with the highest demand for recycled plastic, their share remains at only 7%.
In parallel, circular business models are on the rise and are further boosted by the voluntary commitments and mandatory targets that are helping increase the uptake of recycled plastic across different sectors.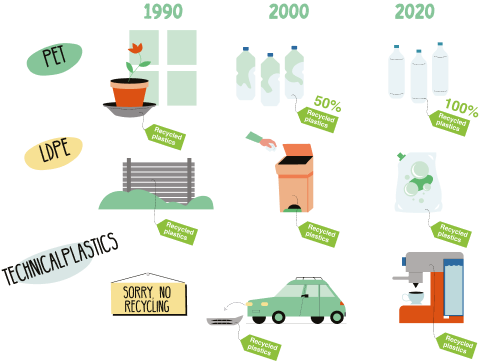 Improved design of products, increased collection and continuous technological innovation have enabled the production of high-quality recycled plastic, which can effectively substitute virgin plastics in a wide variety of products.
RecyClass offers the Recycled Plastics Traceability Certification for all plastic products. You can now certify the use of recycled materials & stay ahead of the circular economy transition.